Contents
What is confirmation email
Confirmation email is a kind of a transactional email sent to a customer after a certain condition is triggered. This email can be sent to confirm that a customer has placed an order at an online shop, subscribed to a newsletter, booked tickets, registered for a webinar. In SendPulse, you can send confirmation email automatically according to specific conditions and filters.
Why should one send a confirmation email
Email in itself remains one of the most effective tools when it comes to lead conversion. It is a very effective marketing channel and has a return on investment of (ROI) of $39.40 per email. Confirmation email, being an underdog among other types of emails has a couple of aces up its sleeve. These points might illustrate why email confirmation is important.
Primary inbox Confirmation emails usually land in the primary inbox section.
Increased CTR They provide information vital to the user which in turn increases a click-through rate.
Opportunity to upsell This type of email is a great opportunity to upsell products and services along with useful information they contain.
Anticipation Emails of such type are anticipated, which means they have a higher open rate.
Triggered by customers' actions These emails are triggered by customers' actions which means you can learn their behavior and preferences.
Types of confirmation emails
Order confirmation is an email sent to customers after they place an order on a business company website. With this email, a company confirms that the order is accepted and is being processed. Find out more in this article.
Booking confirmation is an email sent to customers after they book something online. These can include plane tickets, hotel rooms, restaurant tables, travel package deals, etc.
Registration confirmation is an email sent to users after they complete a registration process on a company's website. These messages are also known as welcome emails.
Subscription confirmation is an email sent to users after they go through the newsletter subscription process. These messages are also known as welcome emails and are often used to walk subscribers through double opt-in.
How to set up email confirmation
After the registration in SendPulse, it is really easy to set up your automated confirmation emails.
Select the Automations tab and create new automation.
Configure an automation flow by adding events, conditions and actions.
Craft your own confirmation email or choose one from over 130 free responsive email templates.
Review your settings and start your campaign.
Email Confirmation Best Practices
These are some basic but very important points to consider while creating your own confirmation email. Play around with your emails, A/B testing is a great way to see what works best.
Wow your customer First impressions are important. The same goes for emails. Confirmation emails are the first to arrive to your customer's inbox. Make reading your email a worthwhile experience.
Make it short and sweet Online user's attention span is getting shorter. You've got seconds to attract attention and say what you have to say.
Stand out It is sometimes OK to use email templates but if you want to build your brand's image — resort to your own design! It's totally worth it.
Be mobile ready More and more people tend to check their emails on the go. Make your own emails or use adaptive templates. They'll look amazing both on your laptop and a smartphone screen.
Incorporate your CTA Sure, confirmation email serves a purpose to provide transactional information, but why limit yourself? Upsell your products, invite your customers to join you on social media or offer a discount. It's up to you. Just don't over do it.
Email Confirmation Examples
Now, that we've covered main tactics to use while designing your own email confirmations, let's see how different companies go through with their transactional emails.
Order Confirmation
Amazon provides all the necessary information concerning the order, in the same time they offer some magazine subscriptions based on a browsing history.
Newsletter Subscription
BuzzFeed keeps their newsletter subscription confirmation light and with a touch of humour. Also, they include a funny CTA button to have their subscribers double opt-in.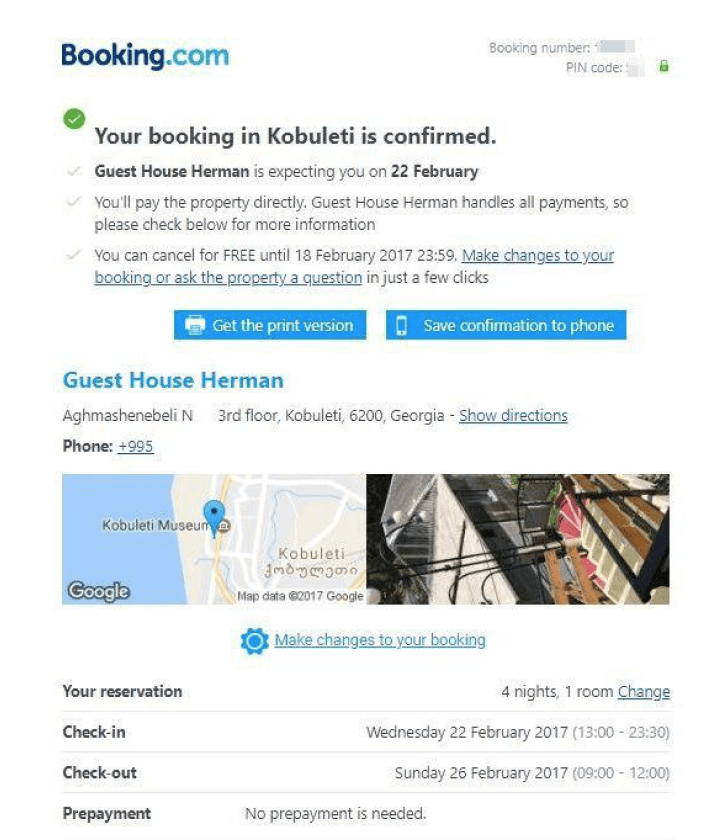 Booking confirmation email
Booking.com makes their confirmation email all about user convenience.
The email has all the necessary information along with useful links to make changes to your booking and even a link to get directions to the hotel.
Registration confirmation
Blinkist keeps their registration confirmation email simple and elegant.
They also ask the users to double opt-in and set expectations about their future newsletter frequency and content.
How can I send a confirmation email with SendPulse?
It depends on the confirmation email type. By default, a subscription confirmation email is sent at the second stage of a double opt-in. Other emails for order, payment, and registration confirmation, require using SendPulse's Automation 360, where the users' action triggers an email to be sent.
What should be in a confirmation email?
Be brief and precise; place a confirmation button or a link after a small text block, which should explain why the user received this confirmation email and what they should do next. Here are some general tips for email copywriting to help get you started.
How do I code an email purchase confirmation?
With SendPulse, it doesn't take much effort. Create an event, add the generated code to the payment page on your website, and create an email workflow. After that, the service will send a purchase confirmation email automatically. Here's a step-by-step guide on how to create an email workflow with SendPulse.
Перевод по словам
verb: подтверждать, утверждать, конфирмовать, подкреплять, закреплять, ратифицировать, поддерживать
— confirm in office — утверждать в должности
— booking confirm — подтверждение заказа на билет
— confirm PayPal membership — подтверждать членство в PayPal
— confirm victory — закреплять победу
— confirm your bank account — подтверждать банковский счет
— confirm election — подтверждать избрание
— confirm and pay — подтверждать и платить
— confirm number — подтверждать
— confirm receipt — подтверждать получение
— confirm stolen card — подтверждать кражу карты
noun: электронная почта, е-мейл
— wrong email — неверный адрес электронной почты
— email client — почтовая программа
— email response management — управление потоком почтовых сообщений
— PayPal referral email — Электронное письмо для привлечения клиентов в PayPal
— retrieve your email address — указывать ваш адрес электронной почты
— new follower email — уведомление о новых подписчиках
— spam / suspicious email — спам / подозрительный электронный адрес
— by email — по электронной почте
— email list manager — менеджер почтовой рассылки
— email opt in — добровольная рассылка
Предложения с «confirm email»
Другие результаты
Can you confirm that in an email for me?
Можешь подтвердить это по электронной почте для меня?
You'll need to sign in with your Microsoft account and password to confirm the phone number or email address before you can use it to verify your identity.
Вам нужно будет войти под своей учетной записью Microsoft и паролем для того, чтобы подтвердить номер телефона или адрес электронной почты, затем вы сможете использовать их для подтверждения своей личности.
Pressed, Popov finally confirmed what by then had become obvious: The EMC intrusion and the FBI email hack hadn't really been the work of a random Russian hacker.
Почувствовав давление, Попов, в конечном итоге, подтвердил то, что к этому времени и так стало очевидным: проникновение в компьютерную систему компании EMC и взлом электронной почты ФБР, в действительности, не были работой обычного русского хакера.
The SDK will verify the SMS confirmation code or monitor the status of the confirmation email.
SDK проверит подлинность кода подтверждения из SMS или отследит статус письма с подтверждением.
If after 24 hours you haven't received a confirmation email, check your email program's junk folder or spam filter.
Если вы не получили электронное уведомление в течение 24 часов, проверьте папку для спама в программе электронной почты или спам-фильтр.
Account Kit servers send an SMS with a confirmation code to continue the login, or a confirmation email to the email address.
С серверов Account Kit будет отправлено SMS-сообщение с кодом подтверждения для продолжения авторизации или эл. письмо для подтверждения аккаунта.
Important: Your primary email address can be replaced only with a confirmed secondary email address.
Внимание! Основной адрес электронной почты может быть заменён только подтверждённым дополнительным адресом.
A confirmation email will be sent once these items have shipped.
Как только мы отправим ваш заказ, вам придет подтверждение по эл. почте.
Tape it to your package and then follow the shipping instructions in the confirmation email.
Приклейте ее к посылке и следуйте инструкциям по отправке, которые содержатся в письме с подтверждением заявки.
The product key is in the confirmation email you received after buying it.
Ключ продукта указан в электронном сообщении, которое вы получите для подтверждения покупки.
Once we receive your notice withdrawing your report, we'll restore the content if it has already been removed and send you an email confirmation.
Как только мы получим ваше уведомление о желании отозвать жалобу, мы восстановим материалы, если они уже были удалены, и отправим вам эл. письмо с подтверждением.
Tip: If you bought Office from an online retailer and received a confirmation email, try copying and pasting the product key from this email instead of typing it.
Совет: Если вы приобрели Office в интернет-магазине и получили сообщение о подтверждении покупки, можно скопировать и вставить ключ продукта, а не вводить его с клавиатуры.
You can also install it by going to the confirmation email for your order and selecting Install Office.
Вы также можете установить продукт, перейдя в письмо с подтверждением заказа и выбрав пункт Установить Office.
Please use the information in the email and notification to learn more about your options, such as confirming you wish to post the content if you have the rights to use it.
В эл. письме и уведомлении вы найдете информацию о том, что вы можете сделать, например, вы можете подтвердить, что хотите опубликовать материалы, если у вас есть право на их использование.
So, it is possible that you could receive confirmation that an email was read, but not delivered.
Так что вы можете получить только подтверждение о прочтении сообщения, но не о доставке.
An email address must be confirmed before it can be made your primary email address.
Прежде чем сделать адрес электронной почты основным, его необходимо подтвердить.
I'm expecting an email any day now confirming.
Жду письмо с подтверждением с дня на день.
Anyway, I was just going to call you because I'm wondering why I received an email confirming my membership in a dating service
В любом случае, я как раз собиралась позвонить тебе потому как мне сильно интересно почему я получила письмо подтверждающее регистрацию моего аккаунта на сайте знакомств
We can't confirm the sender, but the email we received is authentic, more than likely the same hackers from the ransomware.
Мы не можем установить отправителя, Но имейл что мы получили аутентичен, вероятно от тех же хакеров от тех вымогателей.
On 14 September 2006, it was confirmed via an email newsletter from McFly's official website that the third album would be called Motion in the Ocean.
14 сентября 2006 года в электронном бюллетене с официального сайта McFly было подтверждено, что третий альбом будет называться Motion in the Ocean.
This keyserver sent an email confirmation request to the putative key owner, asking that person to confirm that the key in question is theirs.
Этот сервер ключей отправил запрос на подтверждение по электронной почте предполагаемому владельцу ключа, попросив его подтвердить, что данный ключ принадлежит ему.
The applicant receives an email from Google confirming the request but the request must be assessed before it is approved for removal.
Заявитель получает электронное письмо от Google с подтверждением запроса, но запрос должен быть оценен, прежде чем он будет одобрен для удаления.
Yet another email from the publishers, confirming the title.
Еще одно письмо от издателей, подтверждающее название.
To confirm, I emailed Trezor and explained my predicament.
Чтобы удостовериться, я послал письмо в Trezor и объяснил свою проблему.
Грамматика
Лексика
Аудио уроки
Диалоги
Разговорники
Статьи
Онлайн
Тесты
Переводчик
Орфография
Радио
Игры
Телевидение
Специалистам
Английский для медиков
Английский для моряков
Английский для математиков
Английский для официантов
Английский для полиции
Английский для IT-специалистов
Реклама на сайте
Обратная связь
О проекте
Our partner
Copyright © 2011-2020. All Rights Reserved.
The confirmation email is the online correspondence that certifies the details of a previous established appointment, confirms the terms of an order, confirms a payment or states any other similar situation with the purpose of clarifying the situation between two parties. Usually, at least one of these two parties is a company or a society.
*Do not confound it with the request of email confirmation which is a different concept and it refers to the next step of subscribing to a newsletter.
Thanks the technological shift from the last 10 years, the email has gained unquestioned ground in front of the classical letter. While nowadays almost everyone prefers this electronic medium of communication instead of the physical one, there are some things that distinguish a confirmation email from a confirmation letter.
Differences between the confirmation email and the confirmation letter
With the following differences in mind it will be easy for you to decide which medium is the most convenient for sending the confirmation message according to your current situation.
The physical letter can create a stronger link between the two parties, because the addressee associates it with a higher effort from the side of the sender.
Being buried in a bulk of emails all day long, one tends to pay more attention to a paper letter. Besides, the act of opening and touching ensures more attention anyway at the hour of reading the confirmation letter, and enforces the emotional connection.
Nevertheless, the confirmation email is surely a faster way to send your message.
Besides, due to the "Bcc" function, the email is a faster way if one needs to send the same confirmation message to more than one person.
If you need more precise information, take a closer look on how to write a confirmation email.
If you need concrete examples of confirmation emails, check our free email templates: